I always had a few guesses in my head based on experience as to what the most popular Rolex watches sold in the pre-owned market but I was curious about real numbers. So I asked for some data from Watch Chest's records and thought I could give you a snapshot of what is being sent out around the world.
The vast selection that Rolex offers can sometimes get a little overwhelming and you may not know where to start. When you're purchasing your first Rolex, it's sort of interesting to see what models and styles others have selected before you so that you can have a general direction of what to look at. There are also other reasons for choosing certain models, dials, or bracelets aside from personal taste. The size of your wrist, if you have mature eyes, or even your future intentions with your Rolex can all play a part in your selection.
Before we get into specifics, let's look at the most popular models, dials, and metals purchased at Watch Chest with this infographic:

Dial Color
A lot of the Rolex sport models only have two or three dials options so this is why black is an extremely popular color. While black is sharp, subtle, and sexy to wear it can also be a little hard to read the time due to smudging. It only seems to be noticeable to a select few but sometimes the sapphire crystal will get fingerprints or other skin oils on it that will cause a glare. It can easily be wiped off with a soft cloth.
White is one of the most sought after colors for any of the Rolex models. Not only is it a classic, but it's bright and easy to read. The white, pink, and black Mother-of-Pearl dials are all unique, each with its own cut bringing out different colors, shades, and texture. I have found that the black Mother-of-Pearl dial can be difficult to read the time if you have mature eyes but otherwise these dials are a beautiful way to add a little something extra to your Rolex.
Champagne or silver dials will offer a smooth, monotone aesthetic to your Rolex and will never go out of style. These colors go with any outfit and any occasion. Yellow gold hands may blend into a champagne dial but it would only be a concern for those with mature eyes or if you wear reading glasses.
Dial Markers
Rolex goes through an extremely rigorous process to select each diamond, making sure it is the perfect color, cut, clarity, and carat to hold up to their standards. A diamond dial alone can add on a minimum of $1,200 (in the pre-owned market) to your watch and that doesn't even include a Mother-of-Pearl dial. The diamonds are so brilliant and bright that it's a great way to add some flare to your Rolex.
Index is the term for the bar or stick markers and take a back seat to the rest of the watch. So if you prefer a more simple or clean look opposed to Roman or Arabic numerals, give this style a glance. My favorite Rolex markers are the Roman numerals that add an old-world, timeless aesthetic to the watch, while the Arabic adds a hint of casual. Both are easy to read and the yellow or white gold markers stand out well against the dial colors.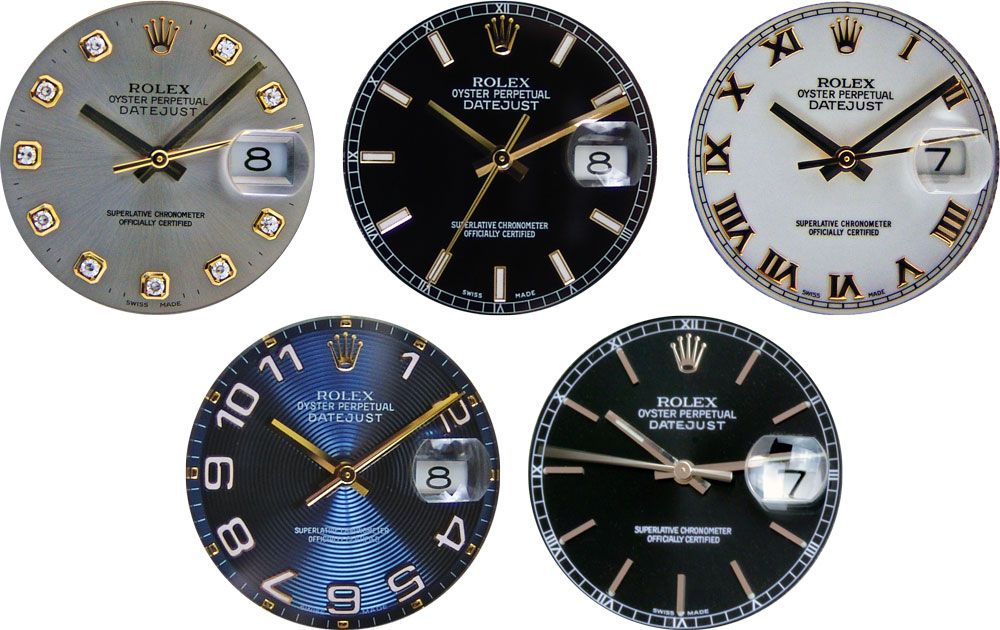 Top Row From Left: Silver Diamond, Black Bold Index, White Roman
Bottom Row From Left: Blue Concentric Arabic, Black Index (Traditional-Style)
Models
The most sought-after models are quite popular for a few reasons. The Datejust and Lady-Datejust are what you could call the flagship models: they have so many options that they can fit anyone's budget, aesthetic, and lifestyle; nor will these models ever go out of style. The 36mm Datejust is now viable as an option as a ladies oversized timepiece and both the traditional- or new-styles are a great fit on the wrist for someone petite and all the way up to a taller frame.
The Submariner and GMT-Master II are Rolex's most popular sport models, aside from the Daytona. While you can up the price of the Sub or GMT by moving into two-tone (18 ct yellow gold & steel) or the solid gold models, the steel version of these two are relatively a bargain; the steel version of the Daytona will cost you $10,000+. Both models have great dinner-table-conversation-worthy histories and will easily move from a day at the beach or a hike to the boardroom, as they can transition seamlessly from function to business.
The Cosmograph Daytona is a beast all its own. It's a stunningly beautiful piece of art and instantly recognizable. One of the most amazing aspects of the Daytona is the 4130 mechanical movement, arguably the greatest movement manufactured by Rolex due to its superior reliability. The Daytonas are always in demand and a driving force in the pre-owned market.
The Day-Date President is made of solid gold and continues to be a mark of status and wisdom. And with the current trends, the yellow gold Presidents are now being worn by women. The President and all of the most popular models experience incremental changes to the aesthetics and mechanical technology, allowing their value to continue to appreciate over time.
Bracelet Selection
While it may seem like an afterthought, the bracelet you choose will change the entire look and feel of your Rolex. Also stick to your personal taste but hopefully I will help if you've been debating between any two styles.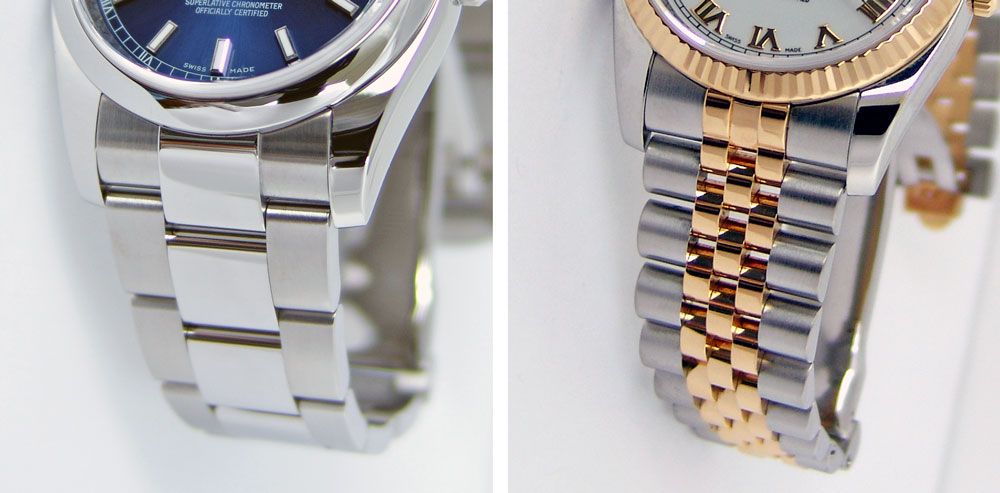 Left: Rolex New-Style Oyster Bracelet | Featured on the Rolex Datejust 116200 Blue Index Dial
Right: Rolex New-Style Jubilee Bracelet | Featured on the Rolex Datejust 116233 White Roman Dial
Oyster: The Oyster bracelet is by far the most popular, but I think this has to do with the fact they are featured on all of the sport models. This bracelet features a 3-piece link and tends to lean on the side of sporty and casual. If you have a smaller wrist — I'd say anything around 6 ¾ in. — it tends to be a little bit more difficult to size the bracelet to a comfortable fit, especially the traditional style version. It's not bothersome but just a downside due to the length of each link.
Jubilee: The Jubilee bracelet is made of 5-piece links and it's much easier to size a comfortable fit to your wrist. The length of the links are shorter and thus allows for more control is customizing its size. The Jubilee is traditionally seen as a little more dressy, where the Oyster is the more durable one, simply due to their designs. The center links of the Jubilee will have a high-polish on them and this gives more of a glitzy look to the watch, as well.
Conclusion
As you are looking for your first Rolex or adding onto your collection, there are a few factors you should consider before you settle on a model and style. Not only would you want to get what you visually like, but also think about your lifestyle and what you want out of your Rolex. Are you in the outdoors more than an office or more physical? Consider the Oyster bracelet because it will be more durable and will incur less wear on your watch. Would you prefer something you could wear to the gym, to book club, and then on a date that evening? You may be a perfect candidate for the Lady-Datejust with a Jubilee bracelet.
No matter what the most popular Rolex styles, choose what fits your aesthetic above anything. I believe you will be more pleased with your selection and therefor will want to wear it more often. And if you find that you eventually want something for function and taste, you can always trade! Reputable independent watch dealers do it everyday and will make it seamlessly easy for you. Hopefully this gives you a great starting point!

Take a look at the most popular curated Rolex list on our website!