Submit this form to receive a free quote and begin servicing your Rolex
Pricing starts at $650 plus shipping. Average total cost is ~$800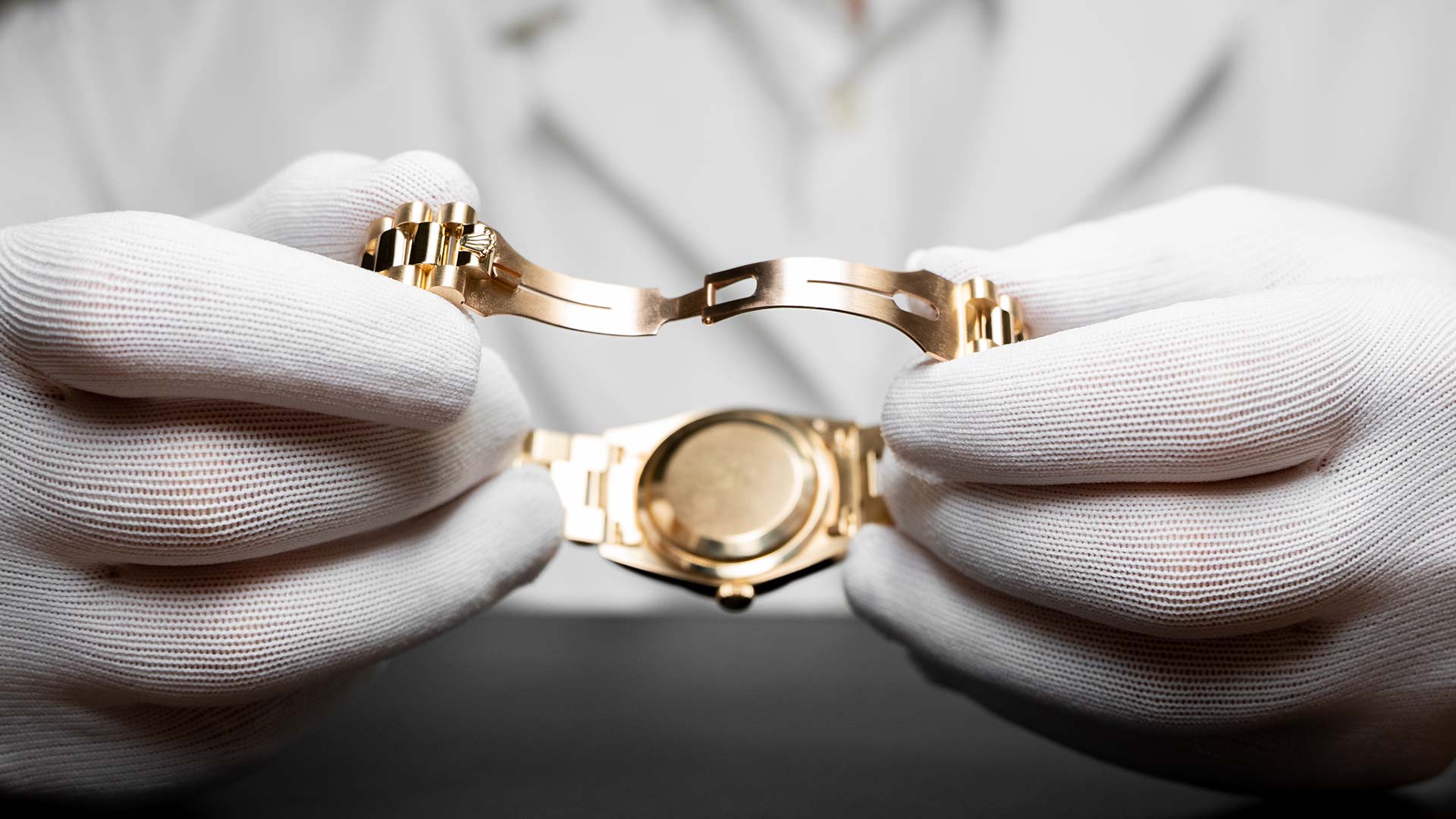 1. Receiving and Evaluating Your Rolex
Upon the arrival of your Rolex, one of our staff members will take note of any specific requests that you may have. Following this, your watch will be sent to a professional watchmaker for assessment and servicing.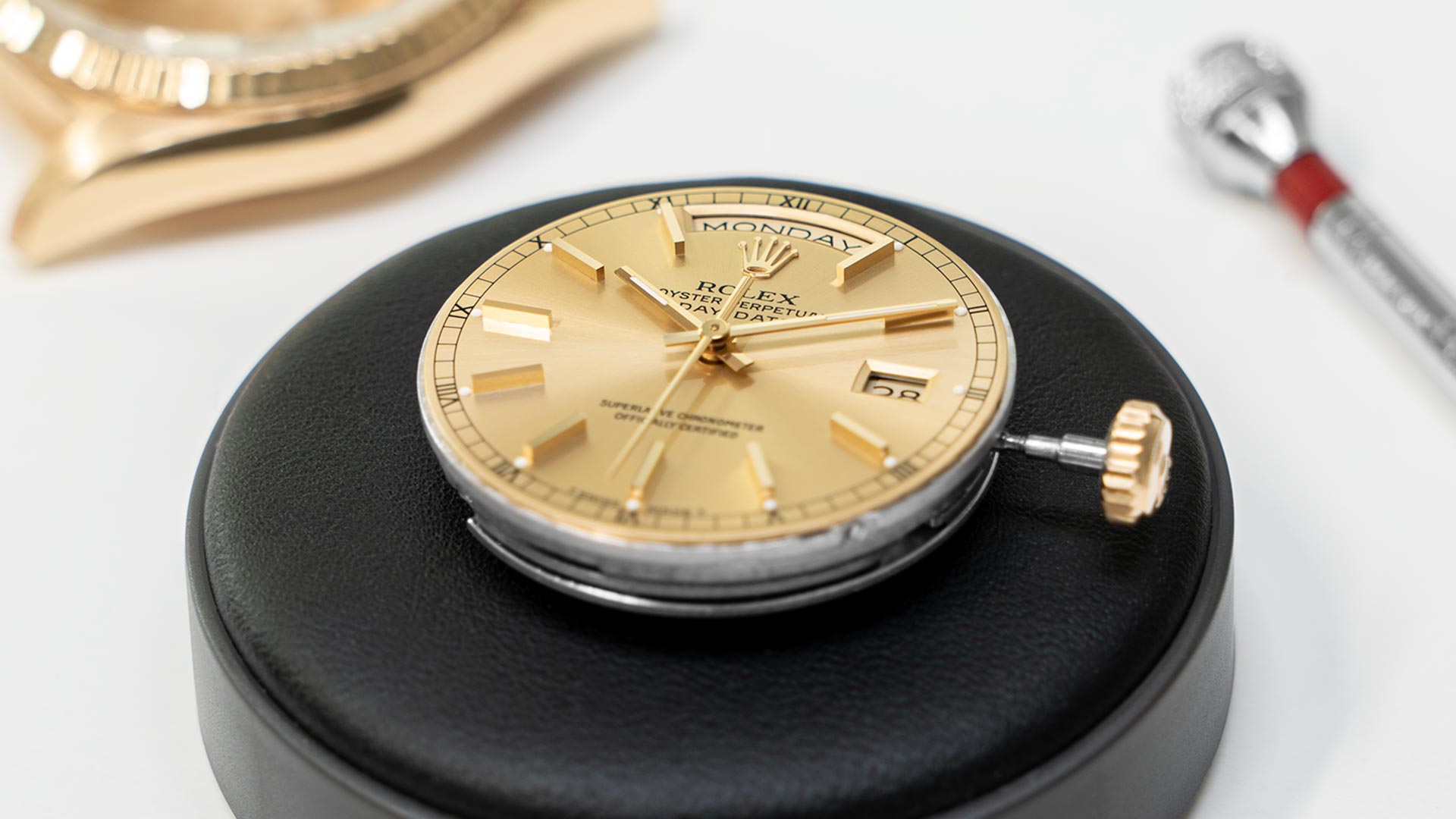 2. Pre-Servicing Preparation
During the servicing process, the movement of your Rolex will be carefully removed from the case, while still retaining its dial and hands. The bracelet will have already been detached from the case as each component requires individual attention. The movement, case, and bracelet will follow separate paths during servicing, before being reassembled at the end of the process.
3. Movement Disassembly
The movement is disassembled entirely, and each part is carefully examined. If any parts need to be replaced, we will include this information in your quote.
4. Component Cleaning
Upon your approval of a detailed service quote, we begin to clean your watch. Every component undergoes a thorough cleaning process in an ultrasonic bath to remove any traces of contaminants.
5. Movement Assembly and Lubrication
After cleaning, the components are carefully dried, and then the movement is reassembled entirely and lubricated. The watchmaker will then make the final adjustments to ensure the precision of the movement meets the brand's accuracy standards.
6. Case and Bracelet Refinishing
The case undergoes a complete disassembly, after which the middle case, bezel, case back, and bracelet are carefully re-polished or satin-finished to match their original appearance. These intricate procedures demand a high level of meticulousness and expertise to ensure that your Rolex's finish is restored to its original state.
7. Reassembly of the Watch Case
Following the cleaning and refinishing process, the case components are reassembled, and the seals are replaced. The watch case then undergoes a waterproofness test to ensure that it meets the brand's standards.
8. Casing of the movement
Once the watchmaker has performed rigorous technical checks the dial and hands are refitted to the movement and it is carefully placed back into the case.
9. Accuracy Testing
Once the movement has been cased, the watchmaker measures its chronometric precision once again and makes any necessary final adjustments to ensure that it meets Rolex's standards.
10. Water-Resistance Testing
To ensure water-resistance, your Rolex undergoes a pressure test, followed by the reattachment of the bracelet to the case.
11. Final Inspection and Testing
At this point, your Rolex undergoes a final quality control inspection, during which the watchmaker verifies that the watch is functioning impeccably, and its aesthetic appearance is ideal.
12. Returning your Watch
After the service procedure is completed, your Rolex is delivered to you in a protective pouch and comes with a one-year warranty that covers all mechanical dependability.
How much does a repair or service cost?
The cost of servicing or repairing a Rolex watch can vary greatly depending on the model and the specific issues with the watch. As a guideline, a standard full service for Rolex Datejust models starts at $650. For models with more complicated movements, such as the GMT-Master II or Daytona, the costs are $675 and $1200, respectively. While we cannot give you an exact price here, you can expect it to range anywhere from $650 to $1200, not including any additional parts that may be needed or shipping. Please submit the form on this page and we will provide you with a free and more accurate quote.
What types of services do you offer for Rolex watches?
We offer a comprehensive range of services for Rolex watches, including repair, service, overhaul, cleaning, crystal repair, polishing and restoration. There isn't much we can't do.
Who will be servicing my Rolex watch?
Your Rolex will be serviced by an AWCI CW21 certified master watchmaker with over 35 years of experience working on Rolex alone
Do you offer a warranty on your Rolex watch repair services?
Yes, we offer a 1-year mechanical warranty on all Rolex watch repairs. We stand by the quality of our work and want to ensure that you're completely satisfied with our services. However, despite ensuring water resistance and providing proof to you with test results, we cannot warranty water damage. Due to factors out of our control and the limited capabilities of our company, we cannot economically replace entire movements and/or dials.
How do I send my Rolex to you for repair?
To get started, submit the service form on this page. We will then provide detailed shipping instructions with images, a pre-paid fully insured overnight UPS or Fedex label and provide dedicated support throughout the entire process. Sending your Rolex in the mail can feel daunting, but it is actually very safe. We send millions of dollars of luxury watches in the mail every year with no losses. If there were to be a loss, your watch is fully insured and will be replaced.
How much does it cost to ship my watch to you?
Watch Chest provides you a pre-paid UPS or Fedex shipping label because we get discounted priority shipping and insurance and pass those savings on to you. Round trip shipping costs are usually $150-$300 and this is added to the cost of your service.
How long does a typical Rolex repair take?
The repair time can vary depending on the specific issue and the type of service required. However, we strive to complete all standard services in 3 to 4 weeks and will keep you updated on the progress of your watch. Performing rigorous testing is usually what takes the most time as we simulate real world wear. This process takes 3-4 days each time we conduct the test and we may need to perform the test multiple times.
Do you use genuine Rolex parts in your repairs?
Yes, we use genuine Rolex parts in all of our repairs to ensure the highest quality and performance of your watch. However, since we are an independent workshop, we do not have a Rolex parts account. We must purchase genuine Rolex parts in the secondary market and those prices can be inflated or unavaliable.
What is the process for getting a quote for my Rolex watch repair?
Begin by filling out the service form on this page and providing as much detail as possible about the issue you're experiencing. A Watch Chest representative will provide you with a tentative quote before you send in your Rolex. Once we receive your watch, we will provide a final quote before any work is started.
How do I know if my Rolex watch needs a service or repair?
Rolex watches can last for generations with regular servicing. If you want your watch to last, Rolex recommends regular servicing every 5 years. The oils used to lubricate your movement need to be changed and parts need to be cleaned. This prevents damage and maintains the performance and logevity of your watch. If you notice your Rolex is not keeping time accurately, or if you notice any physical damage to the watch, it may need a service or repair.
Do you provide updates during the repair process?
Yes, we believe in keeping our customers informed. We will provide you with updates throughout the repair process, so you always know the status of your watch.
How should I care for my Rolex watch to keep it in good condition?
Please see our Journal entry on how to clean your Rolex. This information will show you how to keep good care of your Rolex.
What payment methods do you accept for Rolex watch repair services?
We accept all major credit/debit cards and check/cash.
Can you help authenticate my Rolex watch?
Yes, we are some of the most qualified professionals to authenticate Rolex. This is especially true as our certified master watchmakers are completely disassembling your watch and can individually inspect every part.
Can you service Rolex watches that have aftermarket parts installed?
Yes, we understand that many Rolex owners choose to customize their watches with aftermarket parts. Unlike the official Rolex service center, we are able to service Rolex watches that have aftermarket parts installed. Please note that while we can service watches with aftermarket parts, we always recommend and use genuine Rolex parts for any replacements needed during the repair process and our 1-year warranty may not apply.
Can you help me customize or install aftermarket parts on my Rolex?
Yes, upon request, we can assist with the installation of aftermarket parts on your Rolex. We understand that customization can make your Rolex truly unique and personal. However, please be aware that while we can perform this service, we always recommend using genuine Rolex parts to maintain the highest quality and performance of your watch. It's also important to note that installing aftermarket parts may affect the waterproofness and original manufacturer's warranty. If aftermarket parts are installed, our 1-year warranty may not apply. Please contact us to discuss your specific customization needs and we'll be happy to help.