December 22, 2011
Edited

Loading...
3 min read
Rolex has long been known for its commitment to innovation, particularly when it comes to luminescence in watches. In the early days, Rolex used radium, a highly radioactive material, to create the glowing effect on their dials. In this blog post, we will take a closer look at the history of Rolex's use of luminescent materials, including radium, tritium, and LumiNova, before exploring Chromalight.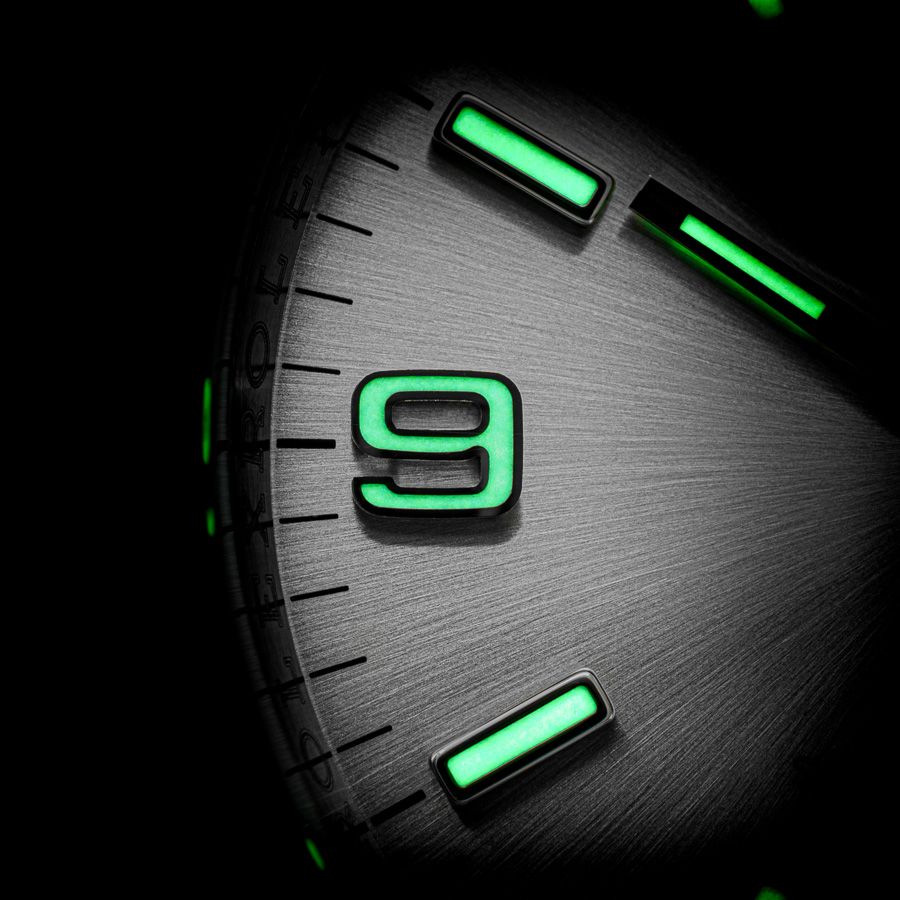 Rolex Oyster Perpetual 116000 with the Green Super-LumiNova
THE GLOWING PAST: THE USE OF RADIUM
Rolex, like many other watchmakers of its time, used radium in its luminescent materials until 1963. Radium was highly radioactive and posed serious health risks to the workers who handled it during the manufacturing process. In response to growing concerns about the dangers of radium, Rolex switched to using tritium, which was deemed a safer alternative at the time.
TRITIUM: ROLEX'S TRANSITION TO A SAFER MATERIAL
Rolex used tritium as a luminescent material in their watches from the mid-1960s until the early 1990s. Tritium is a radioactive isotope of hydrogen, which produces a phosphorescent glow when it decays. Tritium is considered a safer alternative thanks to its lower radioactivity levels. But due to the potential risks associated with tritium, Rolex eventually transitioned to using non-radioactive alternatives such as LumiNova and Super-LumiNova in their watches.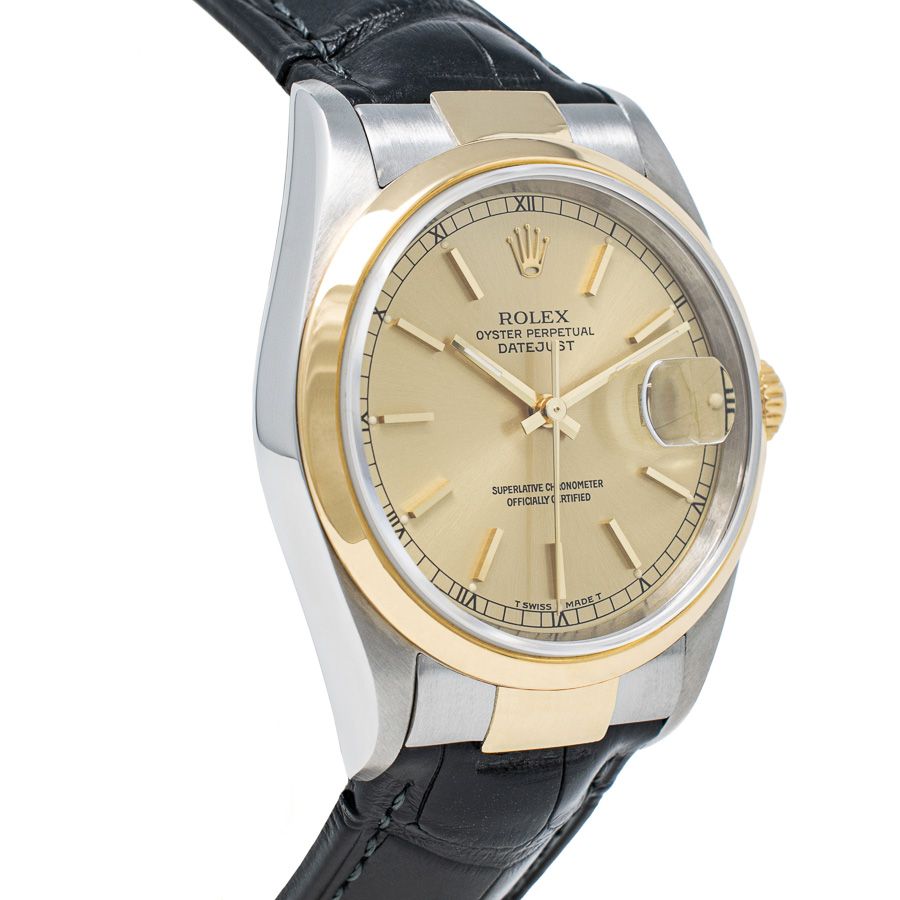 Rolex Datejust 36 16203 with Tritium
THE NEXT MOVE: LUMINOVA & SUPER-LUMINOVA
In 1998, Rolex transitioned to Nemoto & Co's LumiNova, a non-radioactive luminous material that could be charged by natural or artificial light and would glow brightly in the dark. Unlike Tritium, LumiNova does not emit radiation, making it safe for both wearers and the environment. LumiNova is a photoluminescent pigment made up of strontium aluminate crystals. The crystals absorb and store light energy, then release it slowly over time, creating a bright and long-lasting glow.
In 2000, Rolex quickly made another shift in the luminous material used in its watches, transitioning from LumiNova to Nemoto & Co's new Super-LumiNova. Super-LumiNova was a more advanced photoluminescent pigment that provides a brighter and longer-lasting glow than LumiNova.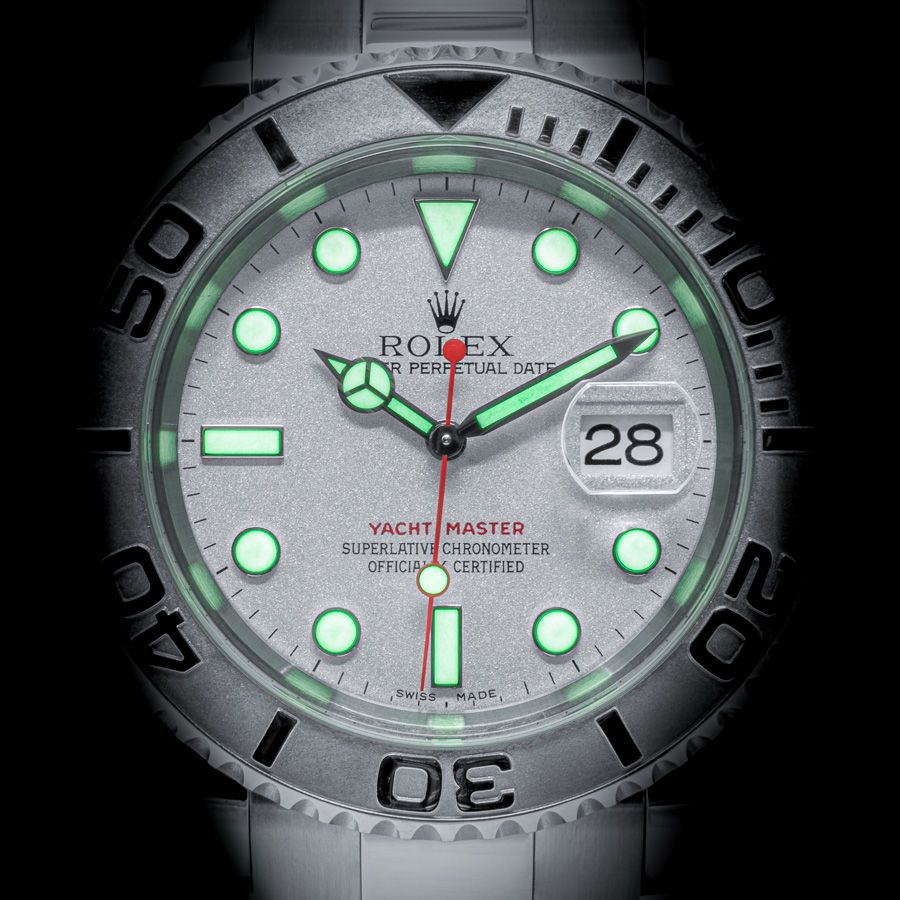 Rolex Yacht-Master 116622 with Green Super-LumiNova
THE ULTIMATE SHIFT: CHROMALIGHT
In 2008, Rolex introduced Chromalight, a new luminescent material that replaced Super-LumiNova. Chromalight is a patented photoluminescent material that provides a brighter and more long-lasting glow than its predecessors. Chromalight can last up to 8 hours, which is more than double than the previously used, Super-LumiNova.
Chromalight is a unique luminescent material that emits a blue glow in low-light conditions, as opposed to the green glow produced by LumiNova and Super-LumiNova. The blue glow of Chromalight is not only aesthetically pleasing but also has practical advantages, as the blue light is easier on the eyes in low-light conditions.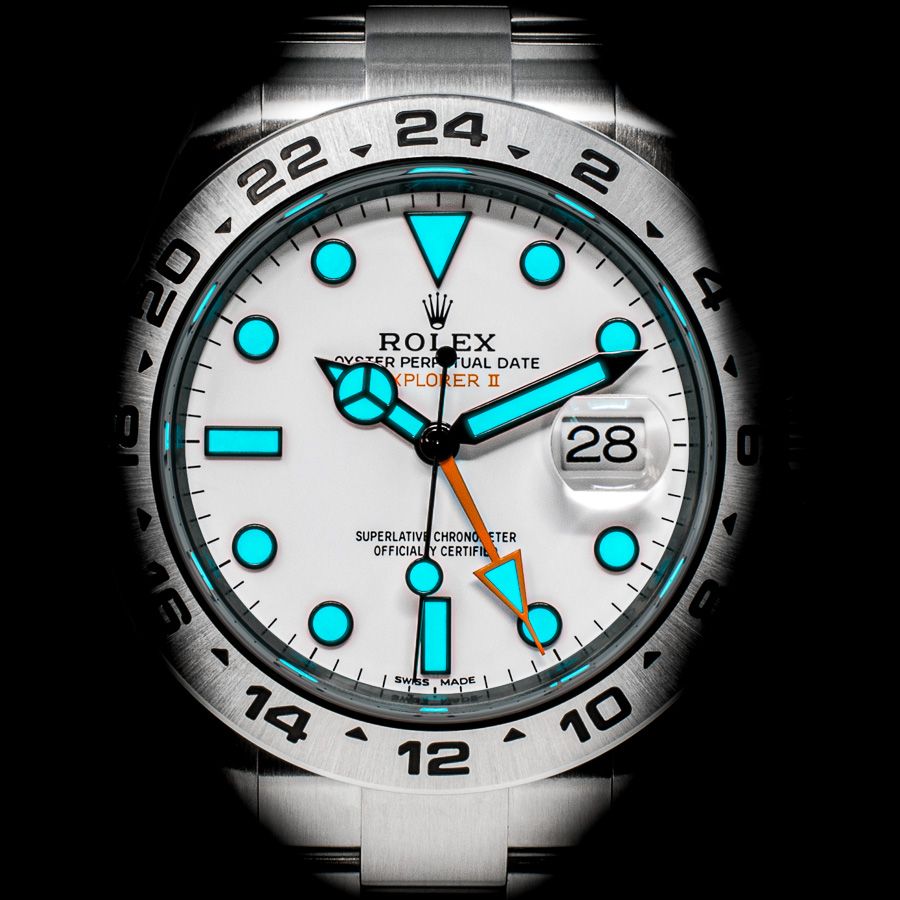 Rolex Explorer II 216570 with Blue Chromalight
CONCLUSION
Rolex's use of radium and its shift to Chromalight highlights the company's commitment to innovation and environmental responsibility. Rolex's transition to non-radioactive luminous materials is a testament to the company's commitment to creating high-quality watches that are both safe and sustainable. As Rolex continues to push the boundaries of watchmaking, we can expect to see even more advancements and innovations in the years to come.

How do you feel about Rolex's Chromalight? Do you prefer the green glow of the LumiNova and Super-LumiNova or the bright blue of the Chromalight?
Let us know in the comments.