December 22, 2011
Edited

Loading...
4 min read
The Rolex Yacht-Master is a standout model for the Swiss watch company, having first been introduced in 1992 with the launch of the 18k yellow gold 16628. The sporty and solid gold design proved to be an instant hit, leading Rolex to develop additional options including two-tone, stainless steel, and mid-size models.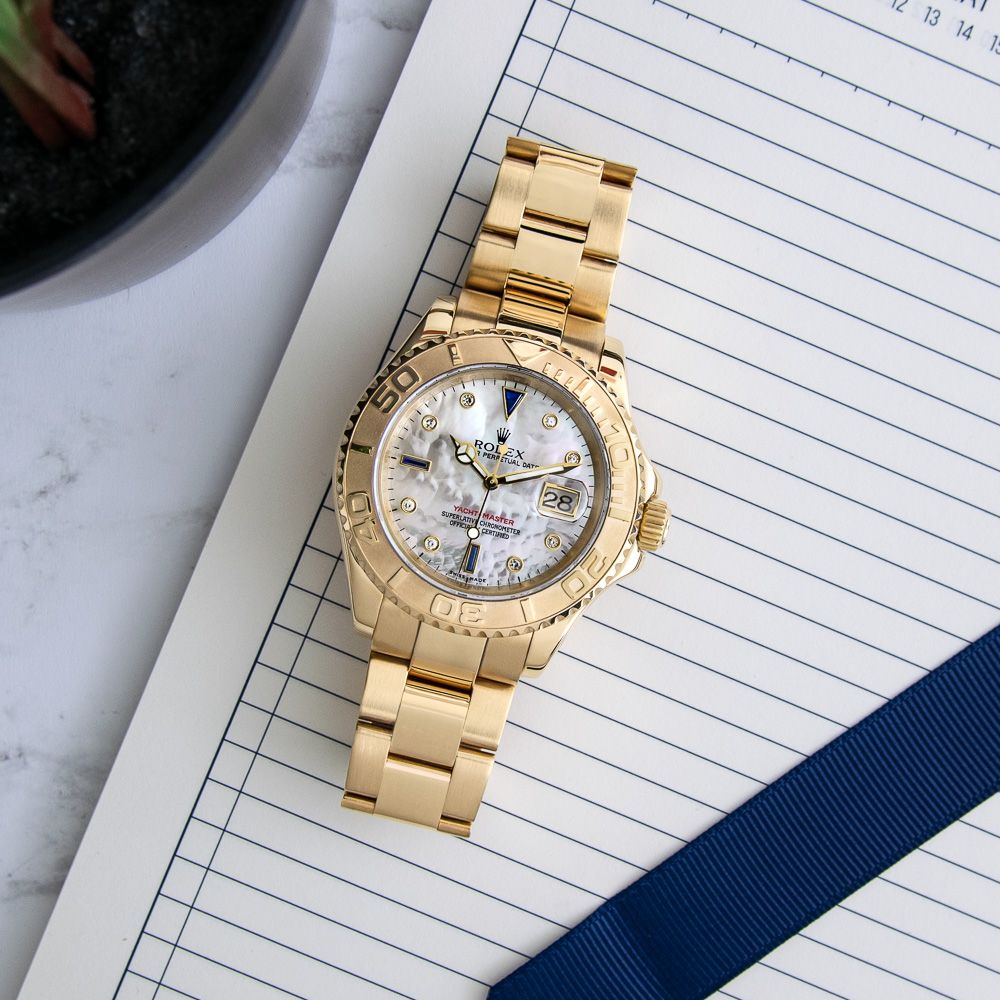 Rolex Yacht-Master 16628 in 18k Yellow Gold with a Mother of Pearl Sapphire Diamond Dial
YACHT-MASTER FEATURES
While the Yacht-Master was primarily designed for sporting activities, it's built to last and can be submerged in water up to 30 feet. The watch's 31-jewel chronometer Rolex movement and special time-lapse Rolex bezel are additional features that make it an ideal tool for tracking elapsed time during sports like sailing or diving.
To browse, shop, and view prices for Yacht-Master watches, click here.
YACHT-MASTER AESTHETICS
Beyond its practical functions, the Yacht-Master is also visually stunning. It's been expertly crafted by Swiss engineers to deliver unparalleled performance and an attractive, commanding appearance. The full-size men's Yacht-Master measures 40mm, but the time-lapse bezel gives it a larger, heavier look. This aesthetic feature is also present in the 29mm Lady Yacht-Master and 35mm mid-size models, making it a great choice for anyone looking for an oversized sport-style watch.
Since its introduction in 1992, the Yacht-Master has undergone only minor changes in design and mechanics. The 3135 automatic movement (or 2235 automatic movement in the Lady Yacht-Master) has remained unchanged, as have the original aesthetics. The use of tritium on the dial markers has been discontinued, and the inner bezel engraving received an upgrade in the late 2000s.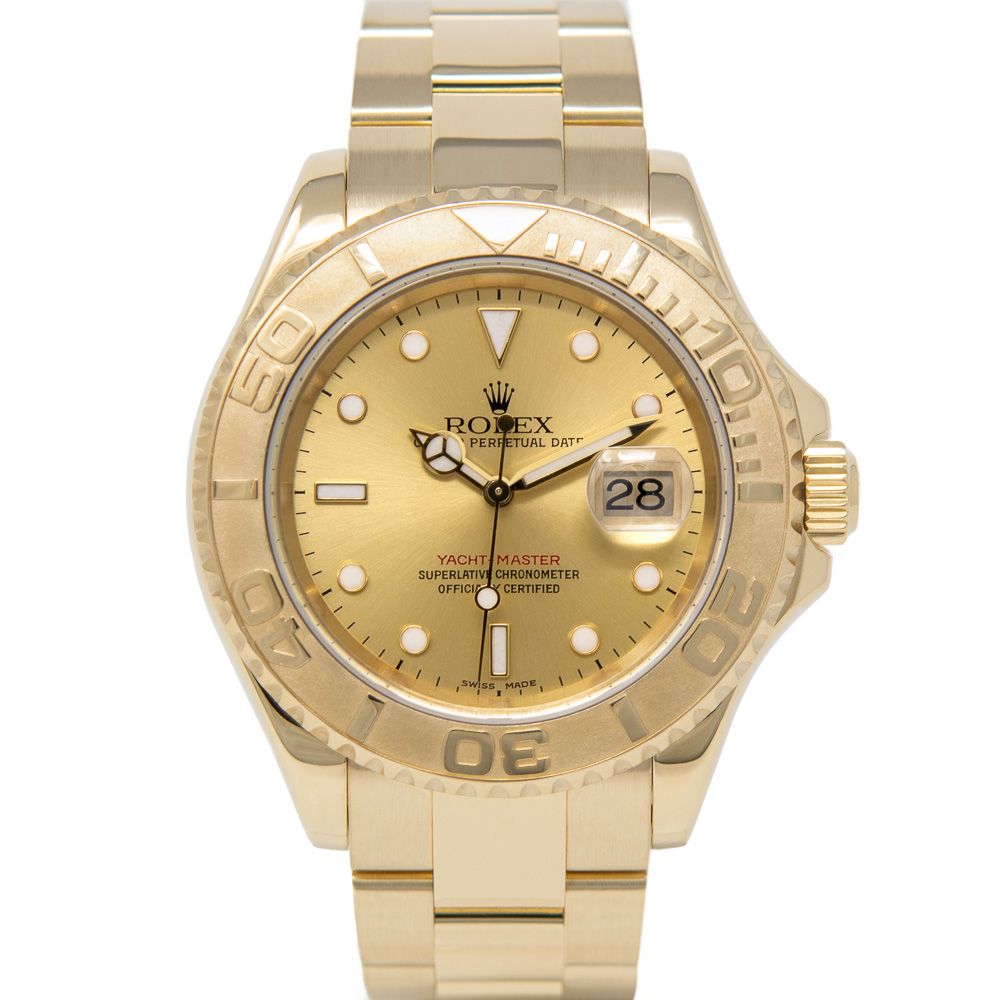 Rolex Yacht-Master 16628 in 18k Yellow Gold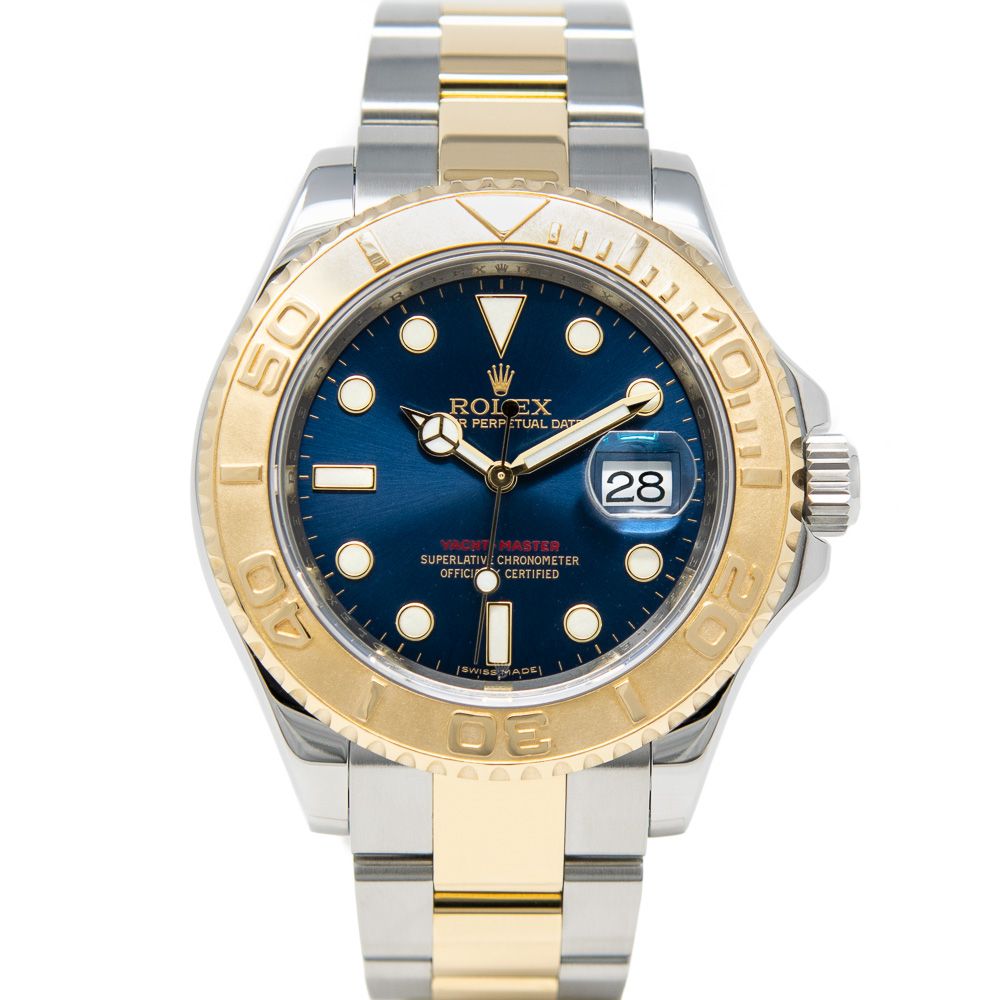 Rolex Yacht-Master 16623 in 18k Yellow Gold & Steel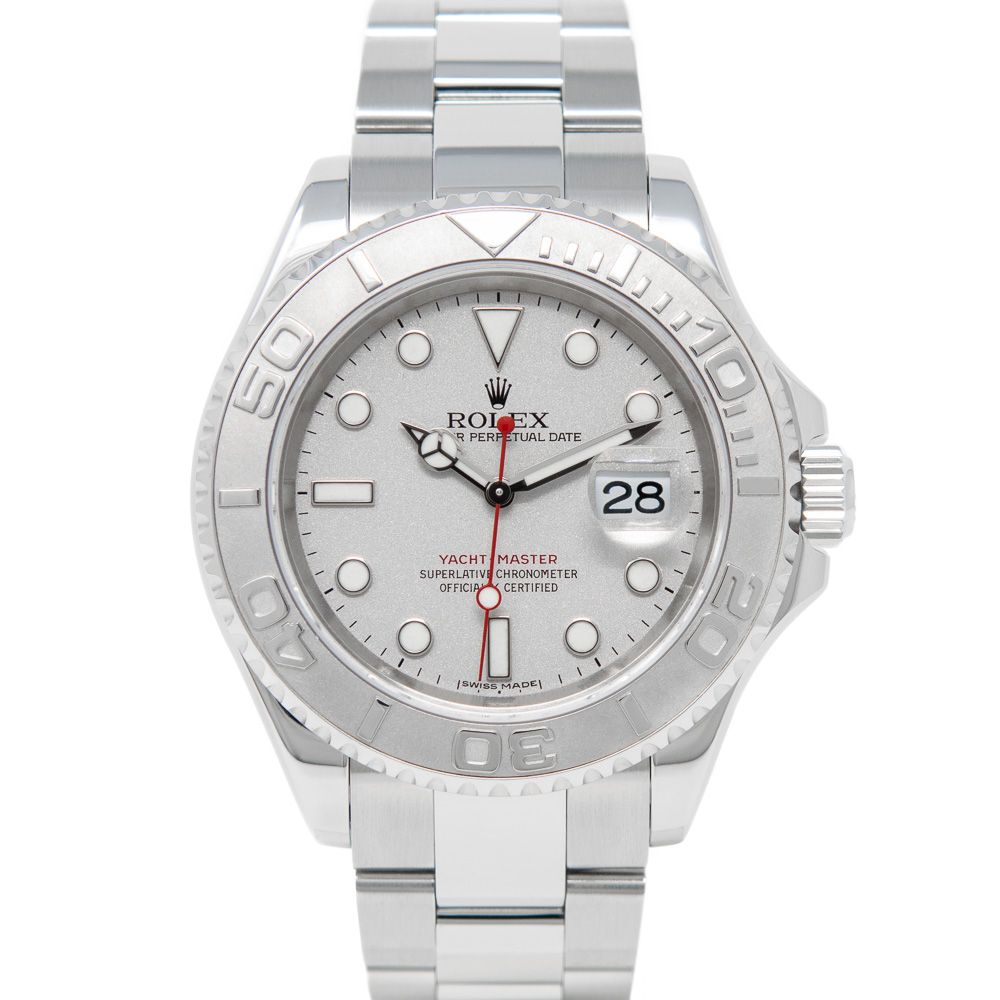 Rolex Yacht-Master 16622 in Steel & Platinum
THE YACHT-MASTER 116622 UPDATE
In 2012, Rolex introduced the "updated" design of the 40mm Yacht-Master. Tagged with the model number 116622, the Yacht-Master's 904L stainless steel seems a bit heavier and more solid - giving this already large watch an even more "oversized" feeling. The largest change is that the stainless steel version is now available with the blue sunburst dial, whereas before the 16622 model was only available with the platinum dial. The new blue sun burst dial was well received and fits so well with the aesthetic and story of this watch.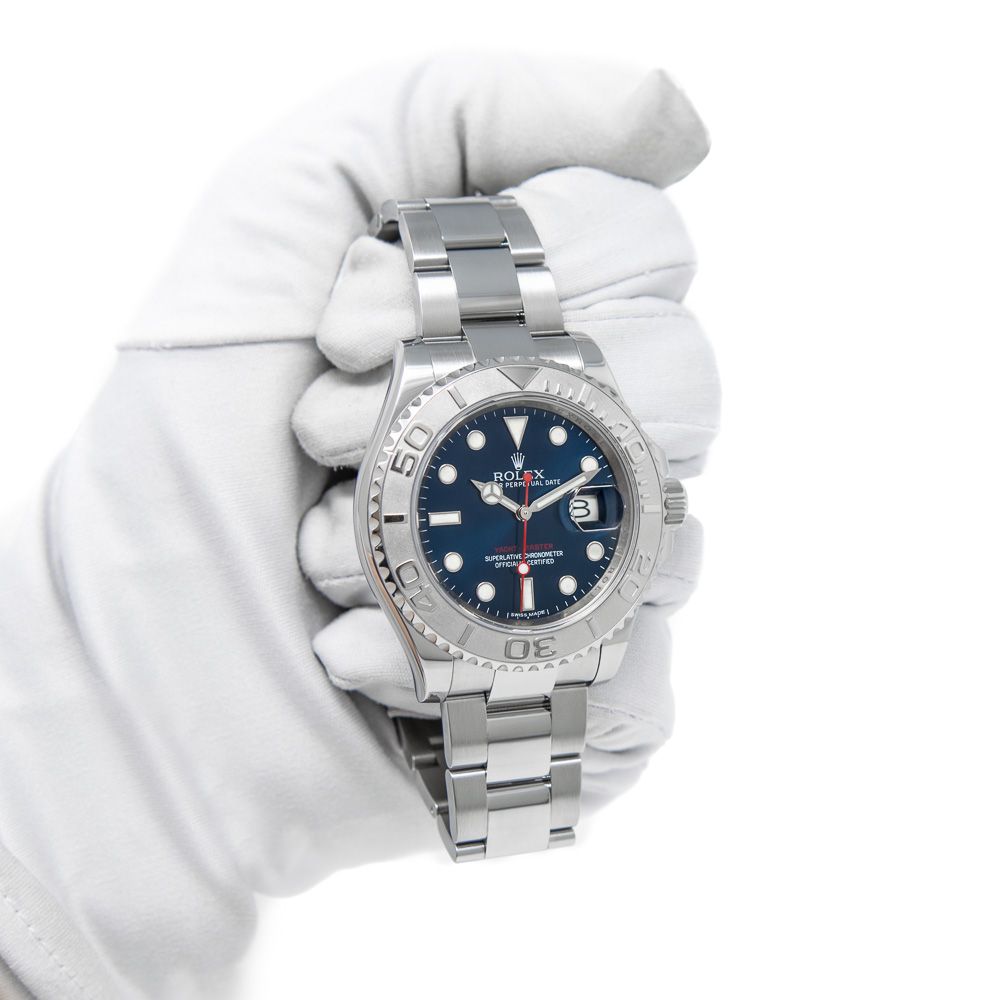 Rolex Yacht-Master 116622 in Steel & Platinum with a Blue Dial
THE ROLEX YACHT-MASTER II
In late 2007, Rolex introduced the Yacht-Master II and is only loosely based on its predecessor; sporting a massive 44mm case, an all-new 4161 automatic movement, and 90 degree rotatable ceramic Ring Command bezel. The Yacht-Master II was designed specifically with the professional sailor in mind. To provide synchronization at the starting sequence of a yacht race, this new model is a regatta chronograph and features the first ever programmable countdown with a mechanical memory.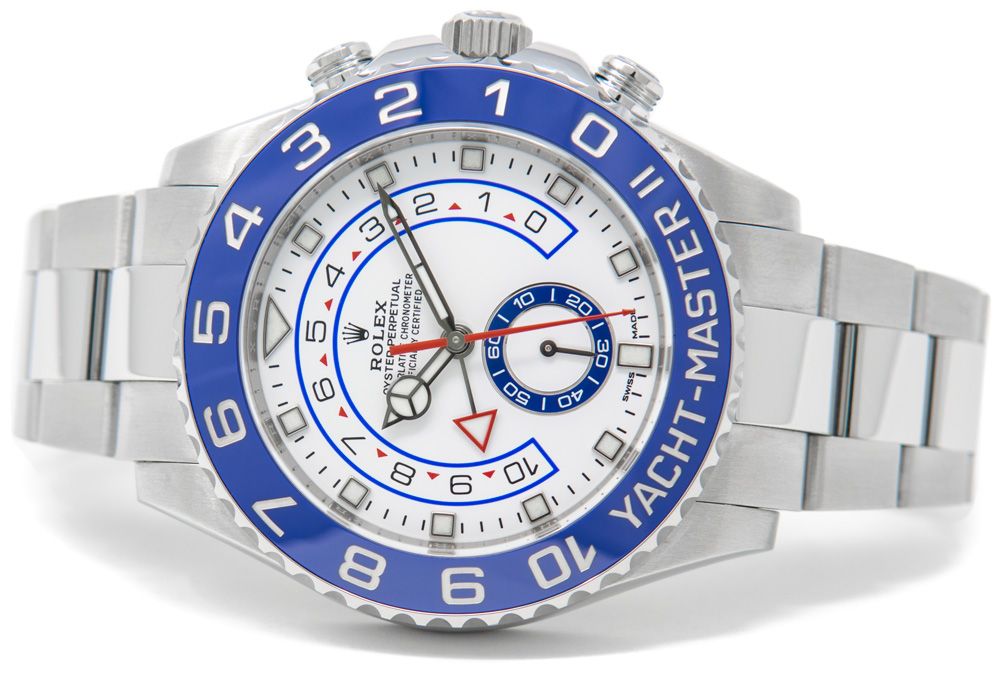 Rolex Yacht-Master II 116680 in Steel with a White Dial
CONCLUSION
Despite being a relatively new model for Rolex, the Yacht-Master stands out as a truly professional watch that's perfect for anyone in the industry or sport. The watch's pinnacle movements and designs make it a functional work of art that's as beautiful as it is practical.

What are your thoughts on the Yacht-Master lineup? Do you prefer the Yacht-Master or Yacht-Master II?
Let us know in the comments.
If you have any questions about the Yacht-Master or another Rolex you may be interested in, please don't hesitate to contact us.