Article by: Kristen Wiley

Rolex Yachtmaster II History

The Rolex Yachtmaster history begins in 1992, where the first Yachmaster was introduced in solid 18k yellow gold - model number 16628. Designed for the nautical sportsman, the Yachtmaster reflected the Rolex Submariner but was truly a different breed. The line was such an huge success that Rolex eventually released the model in 18k yellow gold & steel (model 16623), steel & platinum (16622), a mid size Yachtmaster, and a Lady Yachtmaster version. Click to learn more about the Rolex Yachtmaster History.

It would take another 15 years for Rolex to introduce a long-awaited successor. In late 2007, Rolex introduced the Yachtmaster II and is only loosely based on its predecessor; sporting a massive 44mm case, an all-new 4161 automatic movement, and 90 degree rotatable ceramic Ring Command bezel. The Yachtmaster II was designed specifically with the professional sailor in mind. To provide synchronization at the starting sequence of a yacht race, this new model is a regatta chronograph and features the first ever programmable countdown with a mechanical memory.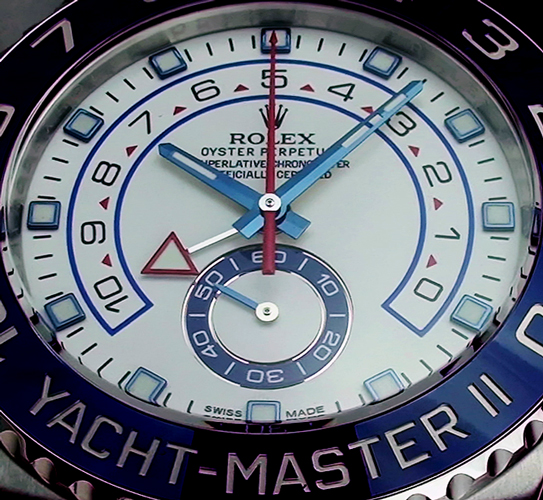 Rolex Yachtmaster 2 116689 in 18k White Gold - Dial and Bezel Detail



4161 Automatic Movement

The calibre 4161 movements is the all-new, self-winding mechanical regatta chronograph spawned and manufactured by Rolex. This is the first movement to introduce a regatta countdown, designed to be used to countdown the time of a race's starting procedure. The mechanism can be programmed to count down from 1 and 10 minutes; this process involves rotating the ceramic bezel, which is one of the first watches in the world to work in conjunction and linked with the movement.


Features

The Rolex Yachmaster 2 is available in solid 18k yellow gold (model 116688), 18k white gold (model 116689), and 904L steel & 18k everose gold (model 116681). The Yachtmaster 2 is waterproof to 100 meters and features a screw-down triplock triple crown to ensure this water-resistance. The Oyster bracelet is fitted with a folding Oysterlock safety clasp and Easylink 5mm comfort extension link.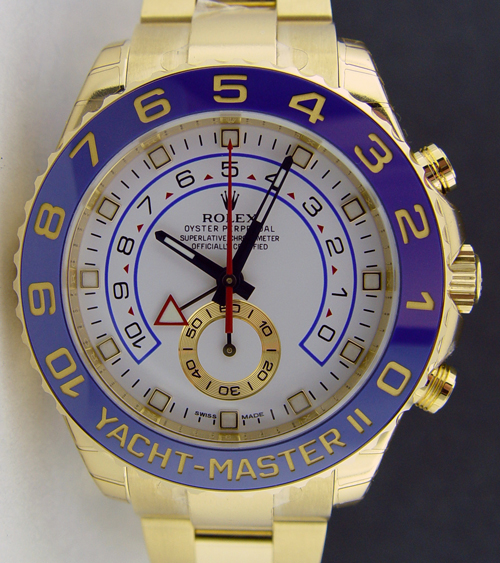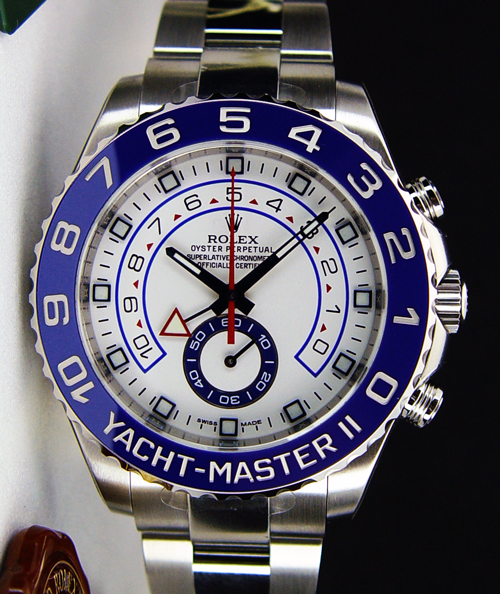 Rolex Yachtmaster 2 116688 in 18k Yellow Gold Rolex Yachtmaster 2 116689 in 18k White Gold


Conclusion
While still a relatively new model for the Swiss watch company, Rolex has outdone itself by proving once again that these watches are truly for the professional in their industry or sport. The pinnacle movements and designs engineered by masters of their craft - creating beautiful, functional art.
To browse, view price, and purchase a Yachtmaster 2, see our Yachtmaster 2 For Sale page.
To browse, shop, and vew price for the Yachtmaster watches, visit our Yachmasters For Sale page.
To browse, shop, and view price for the Lady Yachtmaster watches, see our Lady Yachmasters For Sale page.
If you have any questions about the Yachtmaster or another Rolex you may be interested in, please contact us at 417.239.0438 or email us at chris@watchchest.com

No recently views items
Clear All