The Story of Rolex

"I wore a Rolex 40 years ago when I broke the sound barrier and I still do today. A pilot has to believe in his equipment. That's why I wear a Rolex." –General Chuck Yeager (1992) who has now worn a Rolex for over 60 years
Lasting for over a century,

Rolex

has grown into one of the most respected and well-known watch companies in the world. Its prestigious reputation comes from years of constructing highly accurate wristwatches with unparalleled performance and supreme aesthetics. Knowing the history of the Rolex watch makes an owner appreciate its craftsmanship and magnificence even more.
The Two Founders of Rolex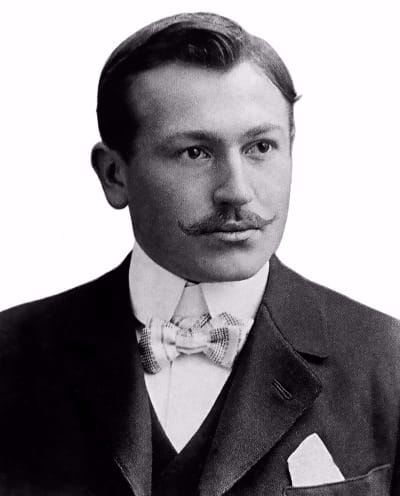 A German Hans Wilhelm Wilsdorf and an Englishman (brother-in-law) named Alfred James Davis founded the company that eventually became known as Rolex. Davis focused intensely on horology, the study of creating timepieces, and made his first three watches. His work was such a success, all three passed rigorous testing for accuracy and it was then he decided to start his own company and founded Wilsdorf and Davis Ltd. in 1905. Wilsdorf and Davis Ltd. was then registered as Rolex in Switzerland in 1908 and later in London in 1912. It is said that the name Rolex was chosen because it was clear, easy to spell, and easy to pronounce and in 1915, the Wilsdorf and Davis Ltd. officially was renamed The Rolex Watch Company Ltd. After a few more variations, it finally became the company we know today as Rolex, SA.
At first, Rolex only focused on selling pocket watches and travel clocks. Pocket watches at the time were only designed for men because wristwatches were considered to be a timepiece designed for ladies and femininity. Travel clocks were extremely popular and Rolex even covered them in leather cases.
The early models were made of silver with porcelain dials and were equipped with Rebberg movements that were imported from Herman Aegler's firm in Switzerland. Wilsdorf chose these movements for their accuracy.
However, Wilsdorf did not want to restrict his company to only these two types of watches. He instead took a step forward and began to manufacture wristwatches for men, a response to the Boer War in South Africa when soldiers began to wear small pocket watches on their wrists. Since it was too hot for them to wear jackets carrying a pocket watch, the soldiers wore watches with a leather strap around their wrists so that it could free their hands.
Once awarded the Class This decision began a new standard of accurate and reliable watches in the industry. The public began to recognize the brand and notice its focus on true quality.

A Certificate of Precision from the famous Kew Observatory in England in 1914, Rolex decided to use movements from Aegler's firm only after they successfully had passed Rolex's own series of rigorous tests.